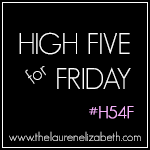 Dear friends,
Pat yourself on the back, you made it to Friday! 
Friday. While its still a weekday, it is oh so special to me. It means the beginning of the weekend and any work seems less like work on Fridays. No other day feels quite like a Friday. Friday is fresh and exciting. Full of promise. 
I tend to start conversations at work, "do you have any fun weekend plans?" I hate it when people say no. It's fun to talk about fun plans. So what about you? My plan this weekend is to join the local gym, get my hair cut and colored, and play a show at Bill's Island Grill in south Oklahoma City. 
Do tell me your plans. I love it!