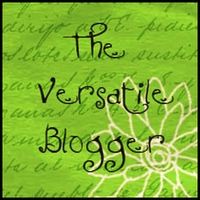 Here are the Rules for the Versatile Blogger Award:
1. Add the award to your blog.
2. Thank the person who presented it to you.
3. List seven random facts about yourself.
5. Pass the award onto seven other bloggers.
6. Inform each blogger they have won by posting a comment on their blog
Random facts about me:
1. I am excited for Christmas.
2. My favorite color is purple.
3. I have played piano for over 20 years (I'm not really old though I started young.)
4. I am allergic to chocolate but I still eat it. (I sneeze after the first tiny bite and then I'm good, usually.)
5. I have lived in Hawaii twice (different islands.)
6. I love rain and cloudy days (its comforting and reminds me of home, Portland Oregon.)
7. I am super excited to be a part of the COPA Reefers but wish we had a different name.
The Award Nominees are...
I picked all these blogs because I really like reading them and hope to get to know each blogger better. I am new to the blogging community and its been a pleasure getting to know everyone. Hopefully, I am entertaining enough for all you awesome people. As per my usual, here is one of my photos. Please enjoy in honor of National Taco Day, which was October 4th. I had tacos for lunch and dinner. END